I'm in the beginning stages of creating new Bittersweets. The idees are spinning around. One idee involves petite egg cartons. The finished creation will be available at the shop in time for Easter. The other notion is making use of my Liberty of London fabric stash. I may need to run out and pick up a few certain items at the fabric shop, but I'm thinking before looking in my lot that I already have them. That would be sweet because my new shop owner job is fast paced and dips into the idle time I once had. Not in a bad way, but rather a fun productive sort of way. 
This post is a modge podge of topics. 
Crystal sent me a message yesterday and it read... "Jill, don't you think it's kind of funny that you have a soap shop on Water Street?" I laughed at her comment and thought to myself, it is funny that a soap shop is located on Water Street! Her comment helped to generate a great marketing idee! You may forget my companies name, but you'd be hard pressed to forget a soap shop on water street!  By the way. Crystal owns an amazing Mexican market that's located in our Stars Hollow type town. She makes the best tamales this side of the Missouri! If you don't believe me ask my friend Clarice.  I took her to Crystals place when she came to visit from WA. state. 
The subject of spring...
Honestly the mere thought excites me to no end. Simply because I'm getting bored with winter. I really, really am yearning for a different view of the landscape. I'm thinking of colorful tulips in bloom and golden daffodils as far as the eye can see.
I worked at getting the Bittersweet invites addressed yesterday and then stamped and mailed at the p.o. The post office lady gave me pretty apple stamps. Kind of happy you don't have to lick stamps anymore! Aren't you? Especially when you have several hundred to lick! Yuck...What was that stuff on the back of the old stamps and envelopes anyway? Ah, so happy the cockroach thing isn't true!
I'm also working on a web site for a friend. It's coming along nicely. It's an in-between project at the moment with the shop opening. 
Our century old home, shop houses a hair and nail salon upstairs. The place is hopping with the two service industries upstairs. I've had the pleasure of meeting some of their customers that happened into my shop. The coffee shop too. 
 Manufacturing day at home. Catching up, sorta...
I made this cake last night. Yummy! Craving cocount for some reason...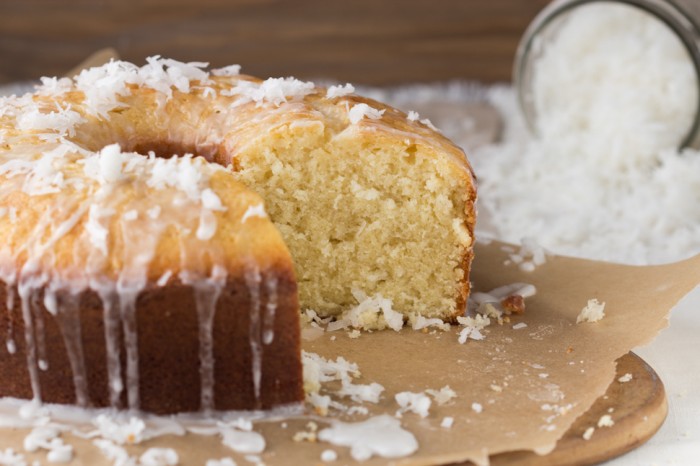 If you like coconut you must try the recipe. 
Enjoy caring and sharing spring days.
Jill 00