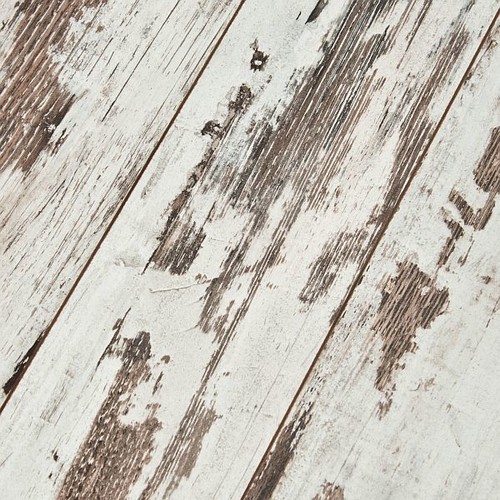 Still roaming for the perfect kitchen remodel. When I found this laminate flooring I just about fell over! Love, love, love it! I'm on the hunt for a local supplier. You can't find it at your local home improvement yet. I bet another six months to year and it will be showing up. It seems everyone now wants gray flooring. I have decided to, since our kitchen is small, use off white as often as we can. Cabinets, tile, and this flooring. I love the fact that it's a laminate and not tile. So much easier to install and much easier on the pocket book. 
I'm getting ready to strip our front door. Have you ever refinished furniture? It's not hard. There's a certain satisfaction one gets after putting your stamp on a piece of old wood. Our door, an original to our 1934 home, is a great old door that is going to look amazing in the raw. 
This antique dresser is on the strip list too. Along with the built in medicine cabinet. I'll probable leave the natural wood and simply top it with a satin varnish. I also like bee's wax finishes. The only problem, they're not really protected. 
I've told you many times how I love chunky wood knobs. They're inexpensive and come in a variety of sizes. Kind of the icing on the cake. 
 Our bathroom is on the re-do list. New toilet, tub recovered, lighting, flooring, and cosmetic upgrades. 
I have a feeling though, the kitchen will be an ongoing project as we're working in between our busy work schedules. 
I started a kitchen board on my
Pinterest site. 
 Plucking favorites and adding them to the board. 
My shop is always busy, and any slow time is used to catch up. Once I get caught up, I quickly fall behind. This keeps me steady busy. I'm either creating new product, wrapping, or making improvements here and there. I'm on to believe that there's always room for improvement. 
The spring flowers are blooming. I'm especially fond of the bridal wreath spirea. We dug up this plant at an old farm many years ago and transplanted it to our yard. 
It's grown huge, and the long stems help create beautiful arrangements. 
I'm fastidious with scent. This one smells amazing! My new favorite. 
Putting together Easter Soaps. Simple packaging of mini egg cartons. Inside, small soaps. I'm looking for an oval cutter. May need to make one with metal. Kind of like a cookie cutter. I'm thinking out loud, as I often do. 
We made
this
and then these tonight. 
Both really good. I searched for
a recipe
with evaporated milk, just because I thought the milk would help to make a more cake like chewy brownie. They were yummy!
Soap manufacturing every week now. Usually five to six hundred bars per week. 
I sell more at the shop then my web shop. 
We sell lots of soap at the soap shop on water street!
We also wrap lots of soap! I say we, I always have, but it's just me. 
I am going to check into hiring another girl to help package. 
It would be a challenge to train individuals to make all the things I make. To date, not counting the almost twenty-thousand soap bars, over one-hundred other artisan essentials. 
My passion remains constant. 
Making things is my thing. I could easily train someone to make a few things, but it would be a real challenge to show someone how to make it all. Not to mention the many trade secrets I've learned over the past twenty years. 
Soap tracing in five minutes. Cremes emulsifying instantly. This oil over that. What works better than this. So on, and on. 
If you've ever made something over and over, assembly line style, you know what I'm referring to.
I'l be starting on the door tomorrow.
Taxes done...
The work table is stacked with fresh cremes, oils, fizzy balls, and scrubs. I'll be bringing in the fresh apothecary this week to the shop.
I'm still drooling over that flooring. I can't wait to get started!
It always seems the hunt takes forever. Going back and forth to the home improvement store locating this, that.
I like to have all the necessary gear before I start such big projects.
Happy Spring! 
Jill